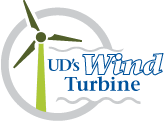 Frequently
Asked
Questions
UD officials chose wind power to meet its commitment to reduce its carbon footprint due to the favorable winds in the coastal area of Lewes and also for the educational and research opportunities it presents.
One hundred percent of the campus' electricity is provided by wind power though this project, thus meeting all the campus' electricity needs with no net carbon emissions and making it a model for other institutions in the nation. At times, the turbine generates more than enough power for the campus; the excess is fed to the electric grid for use by others in Lewes.
In addition to providing carbon-free electricity, the project enhances research in areas such as turbine corrosion, avian impacts, and policy issues related to renewable energy. Information gained from the project is helping the university and Gamesa work toward establishing the first offshore wind turbine in the Americas.
FAQ section.
About Us