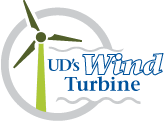 Turbine Info
Frequently
Asked
Questions
Construction began in March 2010; the turbine was fully operational three months later.
FAQ section.
Welcome
The University of Delaware and Gamesa Technology Corporation joined forces to install a utility-scale 2-megawatt (2-MW) wind turbine at UD's Hugh R. Sharp Campus in Lewes. The joint venture, First State Marine Wind, is a partnership between UD-owned Blue Hen Wind and Gamesa USA.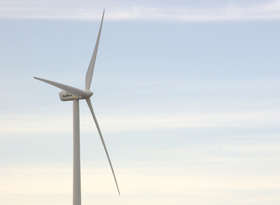 The 2-megawatt Gamesa turbine became operational on the Lewes campus in June 2010.
This partnership came about because of synergies that emerged from wind research being conducted at UD's College of Earth, Ocean, and Environment and College of Engineering, the State of Delaware's interest in offshore wind, the City of Lewes' interest in innovative energy opportunities, and Gamesa's interest in improving its understanding of the effects of marine conditions such as salt spray on turbine coatings, corrosion, and avian impacts.
In 2008, UD worked with Ontario, N.Y.-based Sustainable Energy Developments Inc. to determine the feasibility of placing a commercial scale turbine on the campus. The results of that study indicated that the energy generated from a 2-MW turbine would offset the energy used at the Lewes campus. In addition, the turbine provides educational opportunities for undergraduate and graduate science and engineering students interested in wind energy.
Please visit this web site often
for the latest news and updates.